Wanderlust by Kristin Selesnick
May 2nd - June 3rd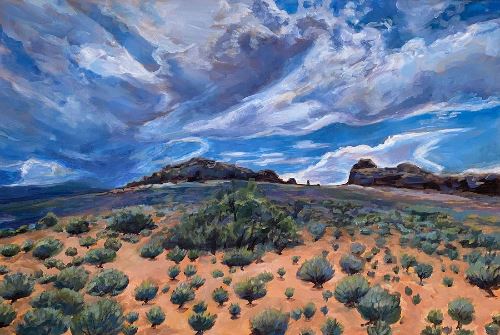 Moab in July, acrylic on canvas, 24" x 26", 2022
Artist Statement
Wanderlust is a selection of paintings created over the past 10 years, including a new body of work inspired by a road trip out to some National Parks in Utah and Colorado last summer. My paintings explore personal interaction within the constructed landscape. From passive observation through a car window, to active engagement on an endurance run, I paint, from photographs, to capture the light, color, and essence of places I have visited or call home. My paintings serve as both a travelog of my personal experiences and as a broader commentary on the way we as humans interact with the natural world.
Bio
Kristin Selesnick holds an MFA in Visual Art from Lesley University College of Art and Design and a BA in Studio Art from Wheaton College (MA). Kristin has studied art internationally at Studio Art Centers International (S.A.C.I.) in Florence, Italy and at the Burren College of Art in County Clare, Ireland. Kristin's work has been exhibited widely throughout New England and overseas in Italy and Ireland. Kristin grew up in Camden, Maine, and now resides in Bow, New Hampshire with her husband, Jeff, their two children, Jonah and Clara, and a cat, Linus. To learn more about Kristin, visit her website http://www.kristinselesnick.com/
Kristin will hold an Artist Meet & Greet at the Library on Thursday, May 12th from 4pm-6pm
---
Become a Featured Artist Today!
If you are interested in being a Featured Artist in the Gallery, contact Amelia at amelia@bakerfreelib.org
---