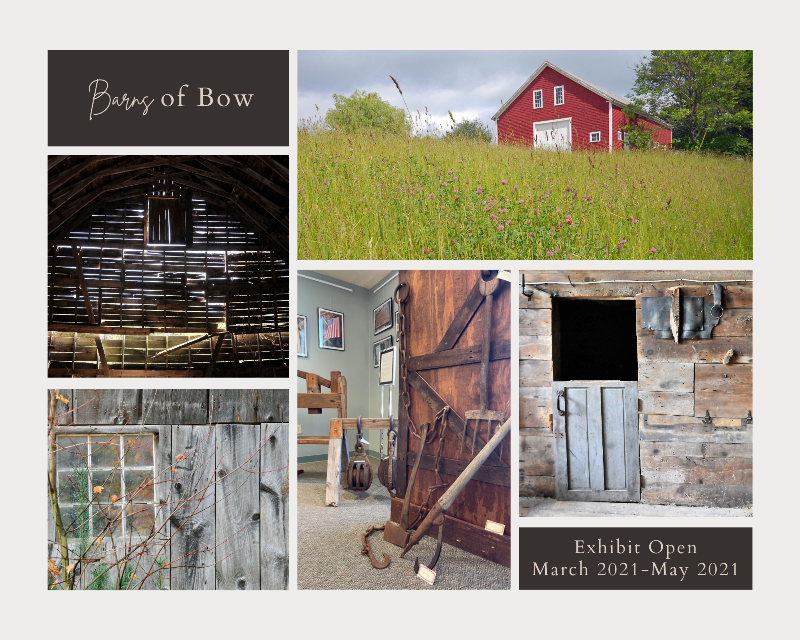 ---
Barns of Bow
Presented by the Bow Heritage Commission
The Barns of Bow display at the Baker Free Library features photographs, documents, farm artifacts, and larger pieces of farm equipment. Many of these items will be seen for the first time in over 35 years.
It was in 2009 that Bow Photographer Eric Anderson, and fellow Bow resident and Architect Tom Campbell Wilson, started this documentation based off of the NHDHR Report compiled by Jonathan Holdsworth in 2008, currently being held in the Baker Heritage Room at the Library. At this time, there were approximately 44 barns still in existence. They were able to document 33 of these, and as of today, three of these barns have since disappeared.
To learn more about the Bow Heritage Commission, visit their website
Tom Campbell Wilson's Barns of Bow website offers detailed information from the NHDHR Report and more barn images. To learn more, visit the website, www.barnsofbow.com
---
Become a Featured Artist Today!
If you are interested in being a Featured Artist in the Gallery, contact Amelia at amelia@bakerfreelib.org
---